Meet our donors
Life Affirming Lessons from Harvard T. H. Chan School of Public Health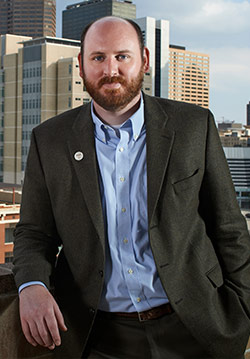 Dr. Christopher James Ronk SM '08, SD '10 is one of the newest members of the 1913 Society and has named Harvard Chan School as the beneficiary of his retirement account. We caught up with Chris in Denver, where he is a biostatistician working on opioid addiction. He lives with his best friend, Koda, a beautiful rescue dog.
Q: What led to your pursuit of your graduate studies with Harvard Chan School?
CR: "I went from getting a bachelors at Clarkson University in Upstate New York to my masters at Harvard School of Public Health, and then continued on to the doctoral program. My undergraduate studies really drove me to seek out applied research opportunities in public health. I studied chemistry and environmental science and policy in undergrad, and originally planned to pursue a career in chemistry. However, in my sophomore year, the repetitive nature of the chemistry labs I took led me to focus more on my environmental-oriented studies. A mentor of mine at Clarkson, Alan Rossner, an occupational and environmental health professor, had a profound influence on me, and through his guidance, I was fortunate enough to spend my breaks from school working as an environment, health, and safety intern for a pharmaceutical company and then a biotech company. I expanded upon my undergraduate studies at Harvard Chan School through a concentration in Occupational Epidemiology, which allowed me to conduct applied and translational research in a broader context.
My studies at the School were life affirming and I couldn't be where I am today without having gone to Harvard. I am indebted to the School, the faculty, and my colleagues for the positive experience I had. My time at Harvard School of Public Health put me on track to a more fulfilling life, and a career I enjoy."
Q: What kind of experience do you hope everyone gets to have in life?
CR: "Helping others-getting to see the direct impact of that work is significant, and can be life changing. I grew up in a very giving family, and often volunteered in situations where I could directly see the effects of my efforts. Now, particularly in my day-to-day work as a biostatistician studying prescription drug abuse and previously as a risk assessment consultant, I am quite distant from the persons I may be helping. But, my past experiences remind me of the effects my work can have. Moreover, by seeing the direct impact of helping others, I found myself more willing to support others' charitable efforts."
Q: Can you tell us about an accomplishment that reflects what is important to you?
CR: "I have found that a lot of my childhood experiences were of particular importance in shaping my future decisions and accomplishments. My Eagle Scout project in high school was about organ donor promotion. I worked with a nonprofit and recruited volunteers to be part of the project to promote organ donation awareness in my community and to get others to sign up. I look back at that time and see the importance of translational research and its effect on public health issues. What I do now is strongly influenced by that project."
Q: What is your definition of success?
CR: "Being fulfilled is a big part of success-whether that's intellectually, emotionally, or even financially. The formula will be different for each person, but finding fulfillment is a key factor in being successful."
Q: Can you tell us about a person who had an impact on your work?
CR: "In high school, I had a fantastic Environmental Science teacher named Rick Szeles, who was also my lacrosse coach. I was quite inquisitive back then, and asked a lot of questions. He was very patient with me, and was a huge supporter. He was on a local public health commission that dealt with EPA-related issues such as superfund sites and brownfields, so I got to learn a lot about these environmental health issues at an early age. He greatly shaped how I think about the world, the scientific method, and how to collaborate."
Q: Is there a theme that runs through your life?
CR: "If there is a theme, it is the pursuit of how we get along with one another as well as the interactions between humans and the rest of the natural world. My progression through research areas and jobs may seem erratic, but I see where I am today as an evolution of my previous interests and strongly based on this theme. Going from chemistry to environmental science and policy to occupational health to epidemiology to risk assessment consulting to being a biostatistician studying prescription drug abuse is pretty all over the map. However, in a broader context, these topics are related, and the foundational knowledge I gained at the School of Public Health has allowed me to successfully work in these areas. I don't know precisely what I'll be doing five years from now, but I know that I will be enjoying my work and will have the School to thank."
Q: What was something that you did philanthropically that was meaningful to you?
CR: "I spent time as an undergrad in Ecuador building houses and working on microfinance initiatives. It was a life-changing experience. I was introduced to international public health issues and novel methods for mitigating the spread of infectious diseases and homelessness, as well as promoting economic growth. I regularly reminisce about my time there as I contemplate how to tackle my current research."