Meet our donors
Giving Back Gives His Life Greater Depth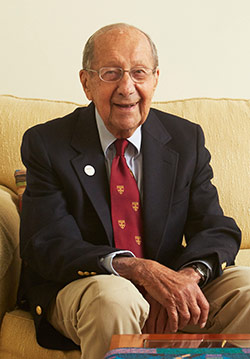 Dr. Miller's life's trajectory began with a tonsillectomy at age five. He watched the doctor put him on the kitchen table, administer Novocain, and pull out his tonsils. At the time, he thought, "If he can do that, I can, too."
He carried that experience with him as he graduated the College magna cum laude '42, earned his MD cum laude '45, interned at the Peter Brent Brigham, served as a medical officer in the Army at the end of the war and then opened his internal medicine practice on Marlborough Street.
For most of us those achievements would have signaled a time to enjoy the medical practice, the family of three, and the good years. Joe Miller was driven to always do better, something he credits his father with fostering. "If I had all A's and one B+ my father questioned the B+," he told us recently. "I think my father had the greatest influence on my life." So he was ready for another challenge.
Fred Stare recruited him to the School of Public Health and Dr. Miller realized he wasn't the only one who couldn't say no to Fred. "Fred was hands down the best fundraiser and a kind and helpful person." What followed was not only his MPH '60 but an adventure in Central America, helping transform medical care in the United Fruit Company's medical plantations in Costa Rica, Guatemala, Honduras, and Panama. After several years with United Fruit, he went on to manage Project Hope's response to the devastation of a major earthquake in Guatemala.
Joe returned to the mainland, recreated a new and more modern practice at the Prudential Center, and raised his second family. When he "retired" he served six years in the New Hampshire Legislature.
After some consideration, Dr. Miller created a charitable remainder unitrust with appreciated stock (thus avoiding capital gains tax) that will give his daughter, Coralia (named for a good friend in Guatemala), a percentage of the principal for a number of years. The remainder will fund fellowships in perpetuity at Harvard Chan School for scholars from Central America. "The personal reward of 'giving back' is the joy from that life offering," Dr. Miller notes. "After a career as an internal medicine physician in the USA, giving my time to the less fortunate in Central America not only fulfilled their need, but also gave my life greater depth. My hope for this philanthropy is that select Hispanic immigrant scholars may benefit their families as well as society as a whole by achieving an education that might not have been available to them."