Meet our donors
Nearly Fifty Years Later and Still Learning - Hasi Majumdar Venkatachalam, MD, MPH '68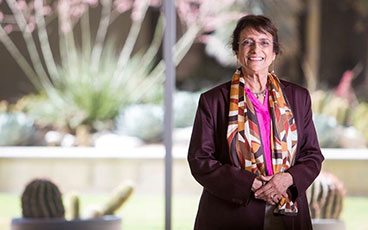 The odds were stacked against her. Although she graduated from medical school in India in a class of about 40 percent women, women made up only 4 percent of medical students in the U.S. when Hasi Majumdar Venkatachalam, MD, MPH '68, came here for her internal medicine residency in 1965. Nevertheless, Hasi (prounounced "ha-she") was accepted into two of the best public health schools in the nation: Johns Hopkins, which offered her a full scholarship, and Harvard School of Public Health, which she felt presented a more global perspective. She chose the global perspective and subsequently received a generous scholarship from Harvard.
She never looked back. Hasi's experience at what is now the Harvard T.H. Chan School of Public Health was full of the excitement of meeting and working with people from all over the world, becoming a class officer, living in the International House on Park Drive, studying with great discipline and dedication. She'll never forget what Harvard President Nathan Pusey told her when they met one evening at the International House. As students lined up to shake hands with him, Pusey asked Hasi where she was from. "Calcutta," she replied. "Oh," Pusey said, "Bobby Kennedy or somebody like him said, 'What Calcutta thinks today, Harvard thinks tomorrow.'" Hasi was struck by such a welcoming statement.
Now retired, she considers herself a clinician-educator, having practiced internal medicine and also having taught medicine as a faculty member at The University of Texas Health Science Center at San Antonio. "I'm still learning," she says joyfully. "Teaching medical students and patients how to incorporate public health and prevention principles helps them preempt the need for curative medicine –by averting the contexts that foster disease."
She calls the people she worked and studied with at the School "unforgettable, true luminaries." They include Roger Revelle, who was linking the School of Public Health with city architecture, social science workers, physical sciences, ecology, basic biology, and population studies; Tom Weller, the Nobel laureate who discovered how to grow polio viruses in cultured cells from human tissues; Dimitri Trichopoulos, a giant in the field of epidemiology, who went on to discover that second-hand smoke can lead to cancer, among other adverse health effects; and the highly decorated Colonel Craig Llewellyn, who became the founding director of the Center for Disaster and Humanitarian Assistance Medicine.
Particularly prominent in her memory album are her interactions with Roger Revelle, including a luminous evening of conversation at her home with him, sitting on the floor with another Harvard professor, Cora DuBois, after a home-cooked Indian dinner, and meeting him again when he lectured in San Antonio.
Hasi also fondly remembers Professor Jane Worcester in biostatistics and Professor Sydney Lee, who graciously invited Hasi and her husband, Venk, to his home soon after they arrived in Boston.
Because of her wonderful, rich experience at the Harvard Chan School, and because she is deeply indebted to her mother for her encouragement and support, Hasi created the Karuna Majumdar Fellowship Fund, named in honor of her mother. The Fund is an endowed fellowship with an irrevocable bequest from an individual retirement account (IRA), with a preference for providing assistance with tuition, stipends, and fees to students from India.
When asked what her name means, Hasi smiled. "It was given to me by my uncle," she said, "and it means 'smile.'"