Meet our donors
Giving That Transcends Generations - Santiago Medina, MPH '97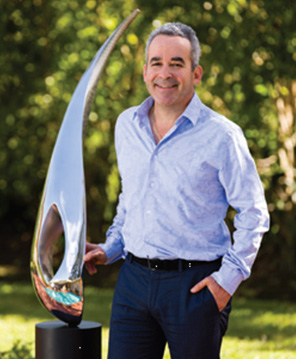 Santiago Medina, MPH '97, should be considered a Renaissance man. Not only does he have an active family and a busy practice as a pediatric neuroradiologist, in addition to presenting at major professional meetings and writing books on evidence-based imaging, he is also an accomplished sculptor and painter with studios in Miami, Italy, and Colombia. Recently, Legacy Matters met with Santiago to learn about his legacy gift to the Harvard T.H. Chan School of Public Health, what drives his love of medicine and art, and how those two passions enhance his life.
Q: How did you decide to become a physician?
SM: First, I have always been very interested in helping other people and was involved in several community outreach programs growing up. Second, in school I fell in love with science and thought medicine was a field of continuous and challenging learning, which would never get boring. Third, I was surrounded by a family of physicians. My grandfather trained in the 1920s in France and Austria. He was the first rigorously trained pediatrician in my hometown of Medellín, Colombia, and founding director of a pediatric hospital back home. My father was a radiologist and one of the first pediatric radiologists in my hometown. In those days, as a child I could accompany my dad and grandfather to the medical office and hospital. I saw how rewarding their daily work was and overall how happy they were. I saw becoming a physician as a unique opportunity to serve others, always be academically challenged, and at the end of the day have a very rewarding life. I tell my friends that I would do my training all over again, although it took me 13 years of study after high school to become a highly specialized pediatric neuroradiologist (brain imager). It was a lot of fun!
Q: What is your definition of art?
SM: Art is whatever allows a person or group of people to express themselves. However, I think that having rigorous training in the arts makes one a better artist—the same as doing extensive general surgery makes a plastic surgeon a very skillful and artistic surgeon. I was blessed that my grandfather and great-grandfather were accomplished artists, so I was sent to a rigorous Renaissance-style atelier, where I learned everything from pencil and charcoal to high-end oil painting. On the sculpture side, I worked in all media—from clay to bronze to marble. I did this from age five to 23. We not only learned the different art techniques but also the history behind the great masters and most important art movements. One of the most essential skills for an artist is to become excellent at drawing. That is why Picasso and Miró, among many others, were great. They had excellent academic training, strong drawing skills, and superb creativity. Unfortunately, there are a significant number of artists and curators who do not have rigorous training in the visual arts. This lack of advanced training would never fly in public health or medicine, where you go through a very stringent training program and your scientific manuscripts are peer reviewed by true experts in the field. In art, that is not always the case.
Q: Could you elaborate on the relationship between art and science in your work?
SM: There is a very strong relationship between my training in medical imaging and art. Medical imaging requires 2D and 3D analysis of extensive data sets. Art, and specifically sculpture, requires advanced 3D analysis. I specialize in neuroimaging, and it is well known from the functional MRI literature that 3D spatial resolution used both for sculpture and medical imaging resides in the same area of the brain. Therefore, there is strong cross-fertilization. The same happens between architecture and scu6lpture. In addition, I use medical CT (computed tomography) machines to scan my initial sculpture models, so I can generate computer-based 3D reconstructions. These 3D reconstructions can be modified on the computer and newer versions of the sculpture created. Many variations can be created in a very fast fashion. The final new version can then be printed using a 3D printer. These new computer-generated models can be used to build the final stainless steel or bronze sculptures. Medical imaging technology (CT and MRI), plus medical 2D and 3D software, is highly sophisticated and can be used for unique analysis of sculpture models and modifications as part of the creative process.
Q: Why did you feel it necessary to earn a master of public health degree?
SM: Achieving my MPH was one of the most important parts of my training. I did my MPH with a concentration in health care management. I had outstanding professors, including Milt Weinstein [the Henry J. Kaiser Professor of Health Policy and Management]. They gave me the big picture of what health care and public health really is: the importance of evidence-based medicine, costeffectiveness analysis, management skills, statistics, ethics, and law, among many others, that provide the best patient care and public health policy. They launched my career into evidence-based imaging when it was not a very popular field in radiology. I had the good fortune and honor of working with several outstanding editors and authors in publishing the first comprehensive books on evidence-based imaging. We have covered adult and pediatric topics, from Alzheimer's disease to urinary infections in children. A subspecialty book in neuroimaging followed. An emergency medicine book on evidencebased imaging is in the works. Interestingly enough, the courses in cost-effectiveness analysis and management, which I took at the School, have become very handy when working on large and expensive monumental sculpture projects.
Q: Do you think more public art is needed in health science institutions such as the Harvard Chan School?
SM: When I was studying for my MD and MPH degrees, I was always struck by the relative lack of public art compared with that found on the undergraduate campuses of major universities and colleges. Art not only beautifies and enhances the working environment but also inspires. Quite often art inspires in ways that go beyond the rational scientific method emphasized in public health and medical schools. Art inspires us to shoot for the stars!
Q: You've created a gift trust at the Harvard Chan School, which will fund scholarships. What motivated you to make this generous gift?
SM: When we created the trust, it was very clear that it had to be dedicated to public health. Very few fields in the humanities or sciences have the vast impact that public health has. It touches the core of who we are as humans and our role in our world: life, health, equality, happiness, prosperity, human rights, global warming, and so many others. The Harvard Chan School gave me an incredible education, and I was able to get my MPH through a grant provided by Boston Children's Hospital. I really wanted to give back—not only on my behalf but also in the name of so many family members that through several generations were involved in providing health care. I stand on the shoulders of so many family members who allowed me to reach new heights. We thought it was appropriate to name it the Medina Family Financial Aid Fund to reflect the collective effort. We also wanted the Fund to focus on developing countries such as Colombia, where public health has had a major impact.
Q: Why is philanthropy important to you?
SM: My mother summarized it the best: "Cuando uno se muere, uno se lleva lo que da y deja lo que tiene," which translates to, "When you pass away, you take what you give and leave what you have."