Meet our donors
The Patient Doctor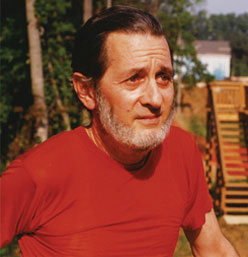 Stanley P. Bohrer, MD '58, MPH '75, is a physician and 1913 Society member whose career has taken him around the world, introduced him to cultures he embraced, and imbued him with an appreciation for what the Harvard T.H. Chan School of Public Health stands for. Stanley has provided a testamentary endowed fellowship for scholars studying at the Harvard Chan School. We met with him in Winston-Salem, North Carolina, where he is professor emeritus at Wake Forest University School of Medicine, to find out more about his work and his philanthropy.
The Yoruba word farabale personifies his career. It means "be patient," and Nigerian and ex-patriot health care workers say, "farabale, farabale" to calm excited, worried patients. For Stanley, the word has even greater significance. "I'll never forget a course I took at the School called Politics and Third World Aid," he said. "The lecturer told us that all the do-gooders and financial aid really doesn't put a drop in the bucket in helping developing countries until education and a solid infrastructure are established in their societies. I didn't like to hear that. It wasn't until later that I really understood the truth of what he said. Along with infrastructure development, it's about the individuals–one at a time–patiently attending to sick patients to give them a chance of better health, and training Nigerian medical students and future radiologists. That's what I did when I was there for 14 years and hope those who come after me will continue to do with this legacy gift to the School."
From his Depression-era upbringing, Stanley was a saver, a scholar, and a scientific thinker, which fueled his interest in medicine. As a teenager, though, he spent three years as a Capitol page in Washington, D.C., including working for the powerful U.S. House Speaker Sam Rayburn. "Working as a page taught me that I did not want to go into politics or be a lawyer," he says. "Decisions seemed too arbitrary, whereas in science and medicine you were working with facts! Wisdom in later years has shown me that is not quite true either."
He was originally going to be a surgeon, when one of the most instrumental people in his life entered the picture. "I'll always be indebted to Larry Robbins, who was the head of Radiology at Mass General," says Stanley. "He squeezed me into a residency in radiology. Since I'm more right-brain dominant and have strong visualization abilities, radiology really fit my talents. I ended up passing the Board in diagnostics, radiotherapy, and nuclear radiology." Stanley was elected as a fellow of the American College of Radiology, has written about his Nigerian medical experiences in the Journal of the American Medical Association (August 15, 1966, Vol. 197, pp. 228–232), and was a keynote speaker at two Harvard Medical School Alumni weekends. He has written over 100 scientific articles, and a book, Bone Ischaemia and Infarction in Sickle Cell Disease.
Working at a resident exchange program in a London hospital set him on a decades-long international quest, thanks to Professor Robert Steiner. "Prof. Steiner was the chair of the Department of Radiology, whose colleague at the University of Ibadan Medical School in Nigeria needed help," notes Stanley. "I signed up for a few months and extended that to two years. After returning home for my Board exams, the tug of Nigeria was stronger than staying in the U.S." From working in Ibadan, Nigeria, to being a visiting professor in Ghana, Kenya, and Tanzania, Stanley witnessed great public health crises, including a local cholera epidemic and the Biafran war, and was arrested by the Nigerian army at one time. He also climbed Mt. Kilimanjaro and drove a VW Beetle throughout Nigeria, West Africa and East Africa.
Stanley went on to serve with Project HOPE's programs in Cartagena, Colombia; Quetzaltenango, Guatemala; Jamaica; and the island of Grenada. When he returned to the U.S., he specialized in bone and trauma radiology as a professor of radiology at Wake Forest University School of Medicine. Always the patient explorer, his sabbaticals took him to teach at hospitals in Pakistan, India, and Ecuador.
His love of African art–as evidenced by the African sculptures and wood carvings filling his home–has influenced his personal artistry. He is a wood carver. Using hardwoods of Africa and Latin America as well as mahogany, teak, and rosewood, Stanley has created bowls, plates, masks, abstract designs, busts, classical figures, birds, pipe racks, letter openers, stools, even a Calder-like mobile, and just about anything including the essential mallets he uses to carve.
"As I gained the wisdom of maturity, I realized that success for me is being content with what I have," Stanley notes. "These days I don't need more, more, more things–and that is why I can give this bequest so that others will benefit from what this School demonstrates–a true global education in public health."