Meet our donors
Edward Green - Giving Others the Opportunity of a Lifetime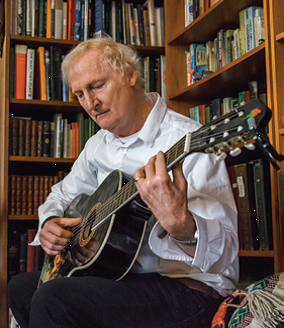 Edward Crocker Green, PDS '02, admits he was a rebellious kid. He learned to ride horses and bicycles while a youngster living in Sweden, read books under the covers after "lights out" in boarding school, and hung out with the most independent-minded (and most badly behaved) kids in his high school class in Seoul, Korea. Since his father was in the foreign service, Ted was well traveled and lived in several different countries before attending college.
After graduating from George Washington University with a major in Anthropology, he realized he wanted to make a difference in people's health. His love of adventure led him to meet anthropologist Margaret Mead and enter the world of medical anthropology. He did a master's at Northwestern then went to work in Washington, D.C., soon resuming his Anthropology Ph.D. studies at The Catholic University of America. After two years of dissertation work in the Amazon forest and a few early years of university teaching, he had a revelation while consulting on a health assessment in Niger. "In a moment of illumination, I saw that anthropology really could relieve suffering and save lives," he says. "Scholarly papers on the mysteries of matrilineal kinship in the Suriname jungle were not the way. Large donor organizations were on the scene, but the more I spoke with people in their health and nutrition programs, the more I grew convinced that anthropology was a critical missing piece in their strategy. How could foreigners change the behavior of tribal and peasant peoples when they didn't understand the beliefs, values, attitudes, and indigenous knowledge systems that shaped behavior?"
Ted's two-year assignment on a schistosomiasis and cholera project in Swaziland led to a 35-year career in international health. After receiving his PhD, he worked on HIV/AIDS, family planning, maternal and child health, integrating African traditional with modern biomedical approaches, clean water and sanitation problems, biodiversity and conservation, and more. These studies took him to every continent except Australia and Antarctica.
It was a colleague, Charles Good, who recommended the Takemi Program in International Health at the (then) Harvard School of Public Health. Michael Reich, director of the Takemi Program, has been a valued supporter of Ted's work that is critical of mainstream AIDS prevention. His mentor, Professor Emeritus H. Russell Bernard (recipient of the Franz Boas Award) at the University of Florida, encouraged Ted during his extra-academic career to continue to write scholarly articles and books and he continues to be a close friend.
Ted explains his very generous $2 million bequest to the Harvard Chan School for the Takemi Fellows in this way: "I am fortunate to come from an old Massachusetts family that provided my brother and me with a modest trust fund. It was not difficult for me to decide to put some of that into postdoctoral fellowships for scholars from poorer regions of the world to come to Harvard to spend a year working on serious, life-saving problems in international health." Ted is president of the New Paradigm Fund, a nonprofit organization he started in 2010 that is dedicated to improving health and well-being for underserved people around the world.