Meet our donors
Fong Wang Clow, SM '86, SD '89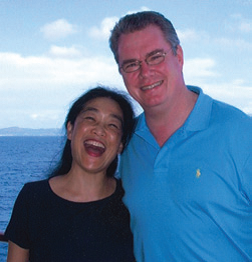 Fong Wang Clow, SM '86, SD '89, came to the School a long way from China's countryside, where she planted and harvested rice by hand in leech-infested fields and worked as a barefoot doctor doing her best to handle the medical needs of her village during the Cultural Revolution. She had learned both Eastern and Western medicine from her mother.
When the universities reopened after 10 years, she walked 40 kilometers to take the entrance examination. She won admission, completed her degree, and took a job teaching statistics in a medical school, where she won a World Bank scholarship to study anywhere in the world. Of course, she chose Harvard. English was her fourth language after Chinese, Russian, and Japanese, so she needed plenty of help. Her beloved thesis advisor, Nan Laird, Harvey V. Fineberg Professor of Public Health, and Professor of Biostatistics, not only was her mentor, she was also Fong's friend and inspiration. Biostatistics faculty members Donna Spiegelman, Jim Ware, and the late Marvin Zelen and Steve Lagakos also were catalysts that made her success possible.
After Fong completed her doctorate, she headed to California, where she lives today with her husband and two children. She worked for Syntex, Genentech, and several other biotech and private-equity companies. She led seven Food and Drug Administration (FDA) approvals for drugs that save tens of thousands of lives and created the only FDA-approved treatment for stroke. She volunteered for the National Institutes of Health for seven years on two data safety monitoring committees and two grant review committees.
Fong is now the head of biometrics for Pharmacyclics, leading a staff of 60 and providing the statistics for four FDA approvals for Imbruvica, a breakthrough drug for leukemia and other cancers.
She and her husband, Eric Clow, have established the Fong Clow Doctoral Fellowship Fund for the Department of Biostatistics, in honor of Nan Laird. This very generous gift is funded with a charitable remainder trust and will provide an endowment fund for doctoral students. Fong Wang Clow, SM '86, SD '89, and Eric Clow live in California with their two children.