Meet our donors
The Business of Giving to Public Health - Prudence PhD'71 and William M. Crozier MBA'63, EXED'94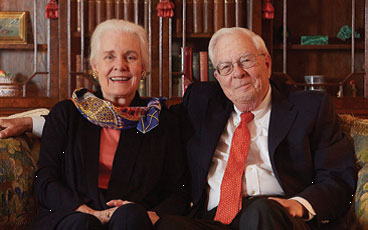 A devoted couple for 50 years, Prudence and Bill Crozier have always been concerned about the greater good. One cause that is particularly important to the Croziers is public health, which is why they recently established two gift annuities to support the Harvard T.H. Chan School of Public Health.
A charitable gift annuity is a type of planned gift that offers excellent payment rates, provides a tax benefit, ensures donors an income stream for life, and offers them the satisfaction of supporting a cause they care about.
The Croziers have had a longtime interest in nutrition and health and have been close followers of developments from the School's Department of Nutrition. Prudy and Bill are members of the Nutrition Round Table, which hosts a full day of research seminars every year. "It has been a privilege to learn nutrition insights and hear about cutting-edge research before the general public and then translate that into dietary changes for myself and my family," says Prudy. She has a great appreciation for the leadership of Walter Willett, chair of the Department of Nutrition and Fredrick John Stare Professor of Epidemiology and Nutrition. "His collegial style has focused on building the Department and mentoring students from around the world," she says.
The Croziers value the "multiplier effect" of research in nutrition and public health. "The discoveries in Walter's department are immediately transferable to the broader world," says Prudy, noting that the elimination of trans fats from the U.S. food supply, for example—a direct result of research and advocacy from the Department—affects not just a single group of patients but an entire population, playing a role in reducing obesity and enhancing the quality of life for everyone.
Many years ago, Bill began to think about contributing to a School other than his alma mater, Harvard Business School. He discovered that a gift to a smaller Harvard school—one with fewer resources—could count toward his reunion gift at the Business School. As a person very interested in the School's concerns and research on solutions to drunk driving, sugary soft drinks, and a myriad of other public health issues, Prudy was also enthusiastic about the idea of supporting the Harvard Chan School.
Bill feels that as citizens of the world, we have a responsibility to lead the way on issues of public health and nutrition. "It shouldn't cost a fortune to have a good diet," he says. "For our own health—and that of the planet—we should consume less meat, less sugar, and more fresh vegetables and fruit, while also acknowledging the existence of cultural differences in food."
The Croziers believe that the Department's Nutrition Source website is "a winner" and are thrilled that the School's Healthy Eating Plate is being translated into several languages. "This Department is ahead of the curve," says Bill decisively.